PROBACLAC VAGINAL NL-308
Multi-Strain Probiotic Complex
Lactobacillus rhamnosus A-119
Lactobacillus acidophilus A-212
Streptococcus thermophilus A-336


8 BILLION CFU per capsule
14 vaginal capsules with applicator



DOSAGE:
ADULT WOMEN 18 YEARS AND OVER: Apply one intra-vaginal capsule at bedtime for 14 days or as directed by a health care practitioner.

NONE OF THE PROBACLAC PROBIOTICS REQUIRE REFRIGERATION
Reduces the recurrence of bacterial vaginosis
In the case of healthy vaginal flora, friendly bacteria maintain a natural state of equilibrium against unfriendly bacteria. A normal vaginal pH level is between 3.8 and 4.2, which means that the vaginal environment is acidic. This acidity maintains the equilibrium and keeps the vaginal ecosystem healthy. Any change in the pH level creates a lack of equilibrium among the vaginal flora, and represents a risk of infection.
Friendly bacteria represent more than 95% of all bacteria present in the vagina. They ensure protection against infection in a number of ways:
They produce a variety of acids, including lactic acid, which helps to maintain an acidic level of vaginal pH and healthy vaginal flora
They produce hydrogen peroxide inside the genital environment, which acts as an antimicrobial agent against unfriendly bacteria
They prevent unfriendly bacteria from adhering to the vaginal walls
They prevent unfriendly bacteria from taking in nourishment
They secrete bacteriocins that inhibit the growth of unfriendly bacteria
They prevent the proliferation of yeast (Candida)
Unwanted unfriendly bacteria (such as Gardnerella vaginalis):
They are potentially pathogenic, which means that they are capable of causing disease or infection
They multiply when the vaginal environment, which is normally acidic, becomes alkaline through the influence of various physiological and external factors
They become pathogenic when they proliferate within the vaginal ecosystem
What is bacterial vaginosis?
Bacterial vaginosis (BV) occurs when the normal equilibrium of bacteria found in the vagina is upset and there is a proliferation of certain types of pathogenic bacteria.
Some studies indicate that a woman who suffers from bacterial vaginosis is at much greater risk of contracting a number of other diseases affecting the reproductive system. Therefore, it is crucial that this condition be diagnosed and treated.
Probaclac vaginal probiotic was the subject of a clinical study involving 120 women. The use of Probaclac vaginal probiotic among women who suffered from recurring vaginitis prevented relapses in 84.2% of them for more than a year.(2)
The equilibrium between friendly and unfriendly bacteria is very fragile. The composition and equilibrium of vaginal flora can be influenced by a number of physiological and external factors:
Age
Stress
Hormonal changes (menstrual cycle, pregnancy, menopause)
Health condition
Sexual activity
Intrauterine devices
Antibiotics
Vaginal douches and feminine hygiene products
Swimming
Symptoms
The main symptoms of bacterial vaginosis are as follows:
Abnormal vaginal discharge that has an unpleasant odour
Redness, irritation and itching
The main symptoms of vaginal yeast infections are as follows:
Whitish vaginal discharge, sometimes with the consistency of curdled milk
Redness, irritation and itching
It is important to obtain a medical diagnosis. See your doctor or ask your pharmacist. If the symptoms persist for more than one week, consult a healthcare professional.
References :
1-Lepargneur JP, Rousseau V. Rôle protecteur de la flore de Doderleïn (The protective role of Doderleïn's flora). J Gynecol Obstet Biol Reprod 2002; 31: 485-494.
2-Ya W, Reifer C, Miller LE. Efficacy of vaginal probiotic capsules for recurrent bacterial vaginosis: a double-blind, randomized, placebo-controlled study. Am J Obstet Gynecol. 2010 Aug; 203(2):120.e1-6.
PubMed PMID: 20659602.
Significant reduction of bacterial vaginosis rate over 2 months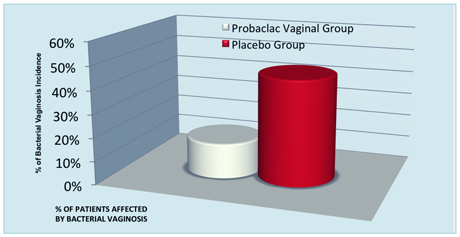 Significant reduction of bacterial vaginosis rate by G. Vaginalis over 2 months